Für unser Schwesterunternehmen ELMA Favorit Filter GmbH suchen wir zum nächstmöglichen Zeitpunkt einen motivierten
Vertriebsmitarbeiter*
Die ELMA Favorit Filter GmbH ist ein vertrauensvoller Partner, wenn es um industrielle Filteranlagen geht. Die Filteranlagen von Favorit-Filter sind ein wichtiger Mosaikstein im Gesamtwerk einer Anlage. Um keinen Gesundheits- oder umweltschädlichen Stauben ausgesetzt sein zu müssen werden unsere Entstaubungsanlagen weltweit angefragt.
Egal ob in Steinbrüchen oder der Metallindustrie – bei Abbrucharbeiten oder Stahlwerken – überall wo Staub entsteht ist unser langjähriges Knowhow und Expertise gefragt.
Interesse, bei uns als Vertriebsmitarbeiter zu arbeiten? Dann müssen wir uns kennenlernen!
---
*People are what counts for us, not gender. We believe in diversity, reject discrimination and do not think in terms of gender, ethnic origin, religion, disability, age or sexual identity.
---
We need your support!
It's easy to apply. Leave a message via our contact form with your name, e-mail address, telephone number and the position you want. We will then get in touch with you immediately.
Your tasks (a very concrete overview):
Sie präsentieren unsere Produkte für den Filteranlagen bei internationalen Kunden direkt vor Ort.
Der Fokus dabei ist immer die passende Lösung für den Kunden zu finden.
Sie gestalten und verantworten den ganzen Verkaufsprozess: Unsere internen Kollegen arbeiten Ihnen zu, so dass Sie den Vertrag mit den Kunden verhandeln können und erfolgreich zum Abschluss bringen.
Sie betreuen unsere bisherigen Kunden, bauen die Beziehungen weiter aus und akquirieren auch neue Kunden.
Sie sind in enger Abstimmung mit unserem Vertriebsleiter und erstellen regelmäßige Reportings, um effektiv und effizient im Team zu arbeiten.
Sie repräsentieren unsere Firma und die Ideen unseres gesamten Teams nach Außen und konkret vor unseren Kunden.
Your profile:
Was wir uns gar nicht trauen zu erwähnen: Sie lieben es, zu Verkaufen und mit anderen Menschen zu kommunizieren.
Das haben Sie schon in den letzten Jahren erfolgreich unter Beweis stellen können oder wollen als Quereinsteiger etwas Neues probieren.
Technik begeistert Sie und Ihr Wissen und Ihre Erfahrung haben Sie mit einer technischen Ausbildung oder einer vergleichbaren Qualifikation erworben.
Den Anlagen- und Maschinenbau kennen Sie sehr gut und haben hier schon viel Erfahrung sammeln können.
Sie lieben es mit anderen zu verhandeln und die beste Lösung für alle zu finden.
Sie sprechen und schreiben fließend Deutsch und haben gute Englischkenntnisse. Im Optimalfall sprechen Sie auch Französisch.
In addition to MS Office products, you are also proficient in Inventor Autodesk 3D
And we also come up with a lot for you. Our plus for you:
For many years, we have lived and cultivated our appreciative and family-like working atmosphere
We have short decision-making paths. And not only thanks to our flat hierarchy
We give you plenty of room to work independently
Our industry is future-proof and we are already looking forward to tomorrow. Your workplace too!
If you want to further your education, we are happy and will support you!
Arrange your holiday and working hours flexibly - we guarantee you that!
Leistungsgerechte Vergütung und vielfältige Arbeitgeberleistungen
Kaffeevariationen sowie Tee zur kostenlosen Verfügung
Firmenwagen, auch zur privaten Nutzung
---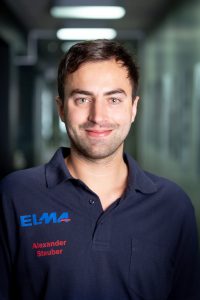 Contact person applications
Alexander Stauber


Phone: + 49 (0) 9645 / 9202-55
E-mail: bewerbung@elma-anlagen.de
Does that sound exciting to you? Then we need to get to know each other! Send Mr Alexander Stauber a short e-mail or call him right away.
You are also welcome to send him your application already.
Whatever the case - we look forward to meeting you!